5th Nordic Challenges Conference
Nordic Neighbourhoods: Affinity and Distinction in the Baltic Sea Region and Beyond
1 – 3 June, 2022, Södertörn University, Stockholm
We are delighted to announce the launch of the website for the 5th Nordic Challenges Conference, which is organized in collaboration with the Centre for Baltic and East European Studies (CBEES) at Södertörn University as a part of the ReNEW University Hub activities. The conference will take place 1-3 June 2022 at Södertörn University in Stockholm under the title "Nordic Neighbourhoods: Affinity and Distinction in the Baltic Sea Region and Beyond".
---
Thomas Welskopp | 5 September 1961 – 19 August 2021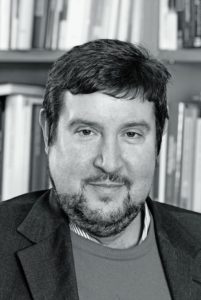 The death of Thomas Welskopp, just before his sixtieth birthday, comes as a shock to his colleagues and friends. From the start, he belonged to the board of the Association for Political History, as testimony to his commitment to the international education of young historians.
---
Entbehrung und Erfüllung | In honour of Thomas Welskopp
On 5 September 2021 Thomas Welskopp would have celebrated his 60th birthday. In 2019, friends and colleagues began to prepare a book in his honour: 'Entbehrung und Erfüllung: Praktiken von Arbeit, Körper und Konsum in der Geschichte moderner Gesellschaften'. Unfortunately, he will never read it. Yet the book will keep his memory and impressive scholarly work alive.
The book will be published with Verlag J.H.W. Dietz in September 2021. Editors are Gleb J. Albert, Daniel Siemens and Frank Wolff.
---
Webinar History at the Intersection of Sports and Politics | 30 September 2021
Power in History, the Research Group Political History of the University of Antwerp in cooperation with Association for Political History
Arguably even more than other subdisciplines of history, political history has been forged in Europe and has therefore taken Western political modernity as its starting point. New paradigms like postcolonialism and subaltern studies have not been able fundamentally to alter this situation. Scholars of non-Western history experience nearly insurmountable thresholds to engage in fruitful discussions with traditional political historians – thresholds situated at the level of concepts, languages, sources and methods. In this webinar, some empirical examples will serve as a starting point for a discussion on these obstacles – and on the ways to get rid of them.
---
Layers and Connections of the Political
International Conference of the Association for Political History
14-25 June 2021 – LUISS Guido Carli University Rome, Italy
Politics has changed a lot, in the last half-century – and so has political history. The boundaries of the political have been redrawn. The large social and political bodies of the mid-twentieth century have grown weaker or have dissolved. Public institutions have become both less insulated from society and less effective in controlling and guiding it. Therefore, defining what is political has become more difficult. Political historians have confronted this challenge, and in the process have gained a deeper understanding of their object of study, have enlarged their scope and refined their methodologies, and have entered into closer dialogue with the "other" histories and the social sciences.
For its 2020-2021 conference (14-25 June 2021 – LUISS Guido Carli University, Rome, Italy), the Association for Political History presents a program that considers, in a historical perspective, examples of how the multiple layers of the political have connected and interacted with each other during the last three centuries. We welcome senior researchers, but also encourage PhD candidates and young scholars to participate in our conference.