Palgrave Studies in Political History
Editors: Prof. dr. Henk te Velde, Dr. Maartje Janse and Dr. Hagen Schulz-Forberg
The new book series Palgrave Studies in Political History is edited by members affiliated to the Association for Political History.
Palgrave Studies in Political History analyzes the changing forms and functions of political institutions, movements and actors, as well as the normative orders within which they navigate. Its ambition is to publish monographs, edited volumes and Pivots exploring both political institutions and political life at large, and the interaction between the two. The premise of the series is that the two mutually define each other on local, national, transnational, and even global levels. Read more.
---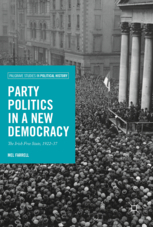 Mel Farrell, Party Politics in a New Democracy. The Irish Free State, 1922-37 (published 2017)
This book offers a timely, and fresh historical perspective on the politics of independent Ireland. Interwar Ireland's politics have been caricatured as an anomaly, with the distinction between Fianna Fáil and Fine Gael bewildering political commentators and scholars alike. It is common for Ireland's politics to be presented as an anomaly that compare unfavourably to the neat left/right cleavages evident in Britain and much of Europe. Read more.
---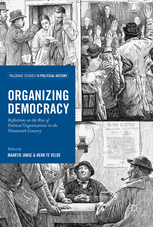 Henk te Velde and Maartje Janse (eds.), Organizing Democracy. Reflections on the Rise of Political Organizations in the Nineteenth Century (published 2017)
This book explores the new types of political organization that emerged in Western Europe and the United States during the nineteenth century, from popular meetings to single-issue organizations and political parties. The development of these has often been used to demonstrate a movement towards democratic representation or political institutionalization. Read more.