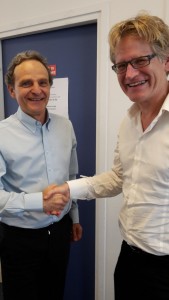 Henk te Velde installed as new President of the APH
Prof. dr. Henk te Velde has been installed as the new President of the APH. At the 6th international PhD conference in Paris, 20-22 June he made a short statement on the future of the Association.
Henk te Velde is Professor of Dutch History at Leiden University, the Netherlands. He has a wide range of research interests including the history of political eloquence and debate; political culture and legitimacy; and national identity. Te Velde is co-editor of the Palgrave Studies in Political History.
---
The Pursuit of Legitimacy. Power and its Manifestations in Political History
25-26 October 2018, Leiden University, the Netherlands
Some political questions are never to be solved. The question of legitimacy is one of these issues that keep pressing themselves on history. How the wielding of political power is justified and contested hangs over the past as an open-ended question. Legitimacy may therefore very well be one of the great themes of political history. In the 4th annual workshop of the Political History PhD Network, PhDs from all over the world are invited to present their work and discuss this crucial question, thereby contributing to new historiographical perspectives on legitimacy.
You can find the programme here. Please feel free to join (one of) the sessions!
---
Global Perspectives: A new interdisciplinary journal

University of California Press launches a new journal called Global Perspectives. It is interdisciplinary and at the same time endorses disciplinary roots and routes to tackle larger global questions.
Editor Hagen Schulz-Forberg explains here why Global Perspectives is of interest for political historians.
---
New volume: Democracy in Modern Europe
Edited by Jussi Kurunmäki, Jeppe Nevers and Henk te Velde
Democracy in Modern Europe surveys the conceptual history of democracy in modern Europe, from the Industrial Revolutions of the nineteenth century through both world wars and the rise of welfare states to the present era of the European Union.
With contributions by APH board members Irene Herrmann and Pasi Ihalainen. Read more