Graduate Student Call for Papers | 'History in Light of Brexit'| London, 5-7 June 2019
There have been, and will be, numerous conferences about the causes and consequences of Britain's departure from the European Union. This conference is not one of them. Rather, we want to think about history in light of Brexit. Indeed, to ask what does Brexit mean for the recent political history of Europe and Britain?
The next APH Conference in Political History will take place 5-7 June 2019 in London, UK. The conference is organised by King's College London Contemporary History, The Strand Group, The History of Parliament Trust.
---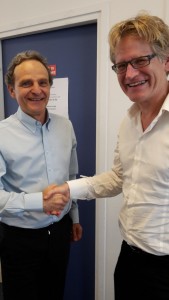 Henk te Velde installed as new President of the APH
Prof. dr. Henk te Velde has been installed as the new President of the APH. At the 6th international PhD conference in Paris, 20-22 June he made a short statement on the future of the Association.
Henk te Velde is Professor of Dutch History at Leiden University, the Netherlands. He has a wide range of research interests including the history of political eloquence and debate; political culture and legitimacy; and national identity. Te Velde is co-editor of the Palgrave Studies in Political History.