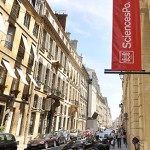 6th International PhD Conference | SciencesPo, Paris, 20–22 June 2018
The next APH Conference in Political History will take place 20-22 June 2018 in Paris, France.
programme practical information call for papers
---
Interview: Marc Lazar on the past and future of the APH
In June 2018 Prof. Marc Lazar (SciencesPo Paris) steps down as President of the Association for Political History. We asked him to reflect on the first 4 years of the APH and the future of political history in general: "The most important task for young political historians is to become completely part of the process of internationalization." Read more
---
Research project: The Dark Side of the Belle Époque

Our colleagues from the University of Padova (Italy) about the comparative historical research project "The Dark Side of the Belle Époque. Political Violence and Armed Associations in Europe before the First World War". Read more
The Call for Papers for the PREWArAs-Oxford co-organised workshop on "Industrial vigilantism, strikebreaking and patterns of anti-labour violence, 1890s-1930s. A comparative and transnational perspective" (Oxford, 23-24 October 2018) is available here (deadline 30 June 2018).